Posted on September 26, 2014 by administrator
Prof. Asta Zelenkauskaite, Assistant Professor at Department of Culture &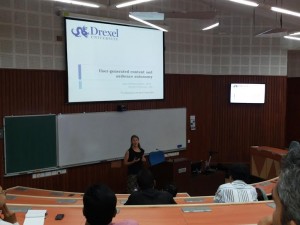 Communication, Drexel University (USA) delivered a  talk on User-Generated Content and Audience Autonomy on 24 July 2014.
Researcher points out that the User-generated content (UGC) has become a dominant trend in online contributions over the past decade, yet the debate about its consequences has basically stalled, focusing on monetization of produced goods. Speaker takes another approach, discussing the audience's autonomy as a central concept and asks what audiences gain other than remuneration through the processes of UGC contribution.
Prof. Julien Cayla, Assistant Professor of Marketing at Nanyang Business School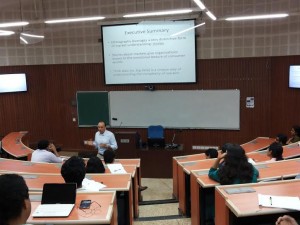 (Singapore) and a Visiting Professor at Kedge Business School (France) delivered an interesting talk on Ethnography and the Power of Storytelling on 30 July 2014.
Ethnography is a popular research method in a growing number of organizations. Companies such as Intel or Harley Davidson have found ethnography to be essential in creating customer-centric capabilities in organizations. Ethnography has helped companies develop an in-depth understanding of consumer segments leading to empathetic product designs and new market opportunities. He presented the findings of a two-year study designed to examine how ethnography contributes to the development of market knowledge from thirty six in-depth interviews with commercial ethnographers, innovation consultants, advertising executives, market researchers and business executives who are all involved in ethnographic projects and focus on the properties of ethnography as a type of narrative knowledge.
Prof. Rajesh Tharyan, senior lecturer at the university of Exeter business school, Exeter,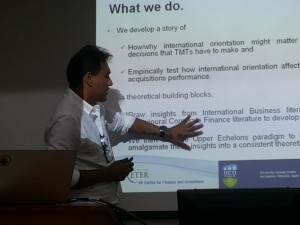 UK delivered a talk on Why TMT international experience and diversity may (Not) improve acquisition performance? on 8 August 2014.
Recognizing the benefits of international competences for firms expanding abroad, prior research advocated the positive role of executives' international orientation, as reflected in international experience and national diversity of top management teams (TMTs). Yet research into managerial beliefs and biases as well as research into team composition suggests potential negative consequences of TMT international orientation due to overconfidence and inefficient decision-making. Non-linear effects of TMT international orientation on firm performance following foreign acquisitions is predicted combining these two perspectives. Analyses of 1,697 deals completed by 428 UK companies over a period 1999-2008 revealed that performance benefits may only accrue to the most experienced TMTs and that the benefits from TMT national diversity wane after a relatively low threshold. These findings shed new light on when TMT international orientation may (not) improve foreign acquisition performance, beyond the impact it has on internationalization decisions themselves as documented in prior research.
Prof. Vijay Pereira, Senior Lecturer (Strategic and International HRM) at Portsmouth Business School, UK delivered a talk on IB and Management Research on India: Past Present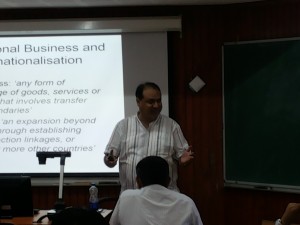 and Future on 20 August 2014.
International Business (IB) and Management research on India has only recently caught the attention of scholars across the world. India being portrayed as the second largest growing economy in the world, after China has spiralled this interest. However, how much has been done? What are the interesting areas? What is it that we can learn from India? Prof. Pereira  attempted  to capture the essence of these questions by primarily looking at the 'Past Present and Future' of IB and management research on India. Interesting facets and case studies were portrayed to flesh out themes.
Prof. Madhav Gadgil, former Professor at Harvard University, the Chairman of the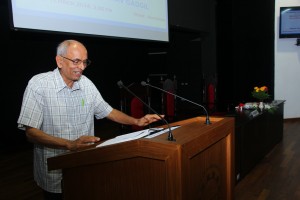 Western Ghats Ecology Expert Panel otherwise known as Gadgil Committee (2011) delivered a talk on Moving from a Predatory to a Mutualistic Economy on 16 September 2014.
The issue of development along the Western Ghats spanning five states (Gujarat, Maharashtra, Goa, Karnataka and Kerala) made headlines when the Ministry of Environment and Forests did not release the Western Ghats Ecology Expert Panel (WGEEP) report to the public till the time RTI petition and court order led to its eventual release in 2012. This report has since generated a lot of protests and accolades across the Western Ghats region due to its critical ramifications for businesses, governments and communities across the region.
Click here for Video of the talk  shared in Youtube.