Posted on May 2, 2016 by administrator
July 2016
Volume 5
Issue 2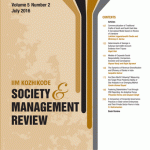 This issue of IIM Kozhikode Society & Management Review contains 6 articles on diverse topics including commercialization of traditional crafts, CSR models and the predictive ability of star analysts, among others, in addition to a compelling Review of the book Business Communication: Connecting in a Digital World authored by Kathryn Rentz and Paula Lentz.
Read this issue online at: http://ksm.sagepub.com/content/5/2.toc
January 2016
Volume 5
Issue 1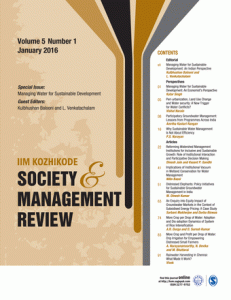 This special issue on Managing Water for Sustainable Development is guest edited by Prof. Kulbhushan Balooni of IIM Kozhikode and Prof. L. Venkatachalam of Madras Institute of Development Studies (MIDS). It contains 11 articles divided into 'Perspectives' and 'Articles' that highlight a wide range of problems in managing water for sustainable development in India.
Water, once considered to be a renewable resource, is gradually becoming a non-renewable resource. Hence, current water management practices warrant a new and conservative approach. Water crisis, especially in developing economies, is a potential threat to progress and security.
In the above context, the articles in this issue provide policy prescriptions which are relevant for water management not just in India, but in any developing country where similar scenarios prevail.
Read this issue online: http://ksm.sagepub.com/content/5/1.toc
July 2015
Volume 4
Issue 2
The variety of topics dealt with in this issue ranges from match-fixing to Aadhar to crime in India, among others. It contains case studies on the impact of Microfinance on women, the influence of technology on Micro Finance Institutions and the scope for community empowerment in ecotourism.
Also discussed in different articles are ways to manage credit risk of government financed Self Help Groups, the impact of flexible mico loans on consumer welfare and MFIs, and the efficacy of Joint Forest Management.
The issue, comprising 6 Articles, 2 perspectives and a research note, also contains an interesting review of Kartik B. Athreya's book Big Ideas in Macroeconomics: A Nontechnical View.
Read this issue online: http://ksm.sagepub.com/content/4/2.toc