Posted on May 7, 2014 by administrator
Prof. Rajaram Veliyath of  Coles College of Business at Kennesaw State University delivered an enlightening talk on the need, opportunities and challenges of process studies in Corporate Governance on 18th December 2013.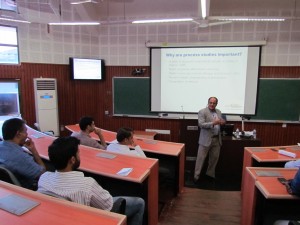 The presentation provided insights into two Corporate Governance process studies that the author was involved in.  The first study was an examination of Compensation Committee processes on the boards of U.S. public companies. The second study was a follow up study on Compensation Committee processes on the boards of Indian public companies.
Prof. Sthanu R Nair & Prof. Leena Mary Eapen of IIM Kozhikode gave an interesting  seminar on Farm Sector Performance and Food Price Inflation in India: Insights and Lessons from pre and post Economic Liberalisation Experiences on 2nd January 2014. The speakers examined the relationship between agrarian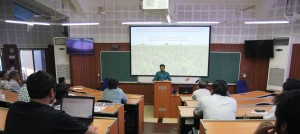 performance and food inflation in India from a long-run perspective. For the purpose, the growth path of Indian agricultural sector is divided into four phases: pre-Green Revolution (GR) period (1950-51 to 1964-65), initial stage of GR (1967-68 to 1979-80), maturing stage of GR (1980-81 to 1991-92), and post-economic reform period (1992-93 to 2012-13).
Professor Cyril Fouillet of the ESSCA Business School in Angers, France deliver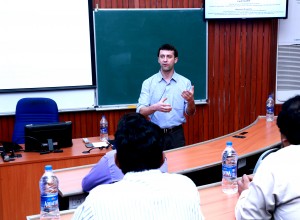 ed an interesting talk entitled "Beyond  borders. Perspectives on financial inclusion spatial dynamics" on 13th February 2014. He discussed the spatial characteristics of financial inclusion in India and the spatial inequality in the delivery of financial services, the important feature of inequality, which seems to increase with liberalisation, economic growth and development.
Prof. Ralph H. Abraham, from the mathematics department at th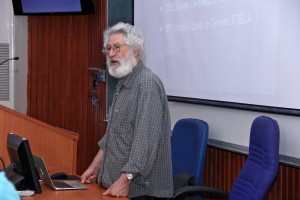 e University of California, Santa Cruz spoke on the interesting topic "Agent Based Modelling of Growth Processes" on 27th March 2014. Growth processes abound in nature, and are frequently the target of modeling exercises in the sciences. In this presentation he illustrated an agent-based approach to modeling, in the case of a single example from the social sciences: bullying.
Prof. Laurens J. De Vries and Prof. Otto Kroesen of  Delft University of Technology delivered seminars on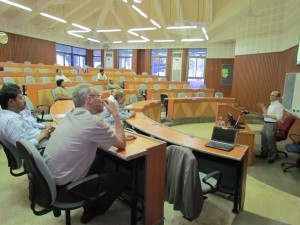 two separate topics on 27th March 2014.  Prof. Laurens J. De Vries spoke on the topic "Energy research at the Faculty of Technology, Policy and Management" and Prof. Otto Kroesen's topic of talk was Water issues, rural development.
Prof.  Bibhas Saha of School of Economics at University of East Anglia was in campus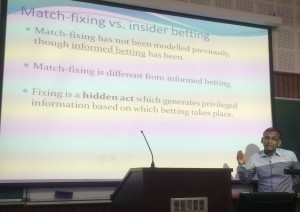 on 11th April 2014 to deliver a seminar on Corrupt bookmaking, match-fixing and illegal sports betting markets. In many countries, such as India, where sports betting is not legal, the betting market is operated by bookmakers who may secretly maintain links with corrupt players with the intent of fixing the outcome of a sporting contest and defrauding unsuspecting ordinary bettors. The talk covered the prospects and issues of legalization of betting to eliminate corrupt bookmaking.